GLANCECAM 3
View all your
IP cameras
The biggest update yet to the beloved IP camera viewer for Mac just arrived with lots of new and advanced features!
GLANCECAM PRO
with
multi-windows
IP cameras are inexpensive and more people buy them every day. GlanceCam makes the experience of streaming one, or 50, so much nicer!
"Finally, a cam
viewer that
works!"
GlanceCam is compatible with most IP cameras, because it works with standard protocols such as RTSP, HTTP(s) and RTMP
What is GlanceCam?
GlanceCam is an IP camera viewer for Mac.

As a native client with support for standard streaming protocols, it allows to keep an eye on cameras from different brands in a secure way and without dealing with multiple clunky web apps, plugins or obsolete applications.

Available in the App Store since 2018 and constantly updated, GlanceCam is a convenient solution with lots of options for the video stream.

The app works and looks great on Ventura and is unobtrusive and uncluttered, but has advanced capabilities such as Insta-zoom (hold down the mouse right button to temporarily maximize the window) and Always on top (float the camera window above any other); it supports 4K, H.265 and audio streams, includes automation-friendly features (keyboard shortcuts, Apple Script, a URL scheme, send HTTP GET requests to IoT devices...), can launch at startup, operate in Zoom mode and do many more nerdy things. And there's good documentation to help you get started!

31 free updates in 4 years and attentive Users' support built a loving audience, as proved by more than 420 ratings in the App Store averaging 4.1+ stars; just listen to GlanceCam's Users and to the Tech Press...

Version 3 launched after 2 years of development, with lots of new features and improvements, some included in the new GlanceCam Pro option; GlanceCam 3.5 added Apple silicon support with significantly reduced CPU and RAM usage.

GlanceCam is made with love by Cesare, a Mac and iOS developer based in Italy, but Milla's contribution figuring out the hard stuff while taking long walks cannot be discounted 🐺🏃.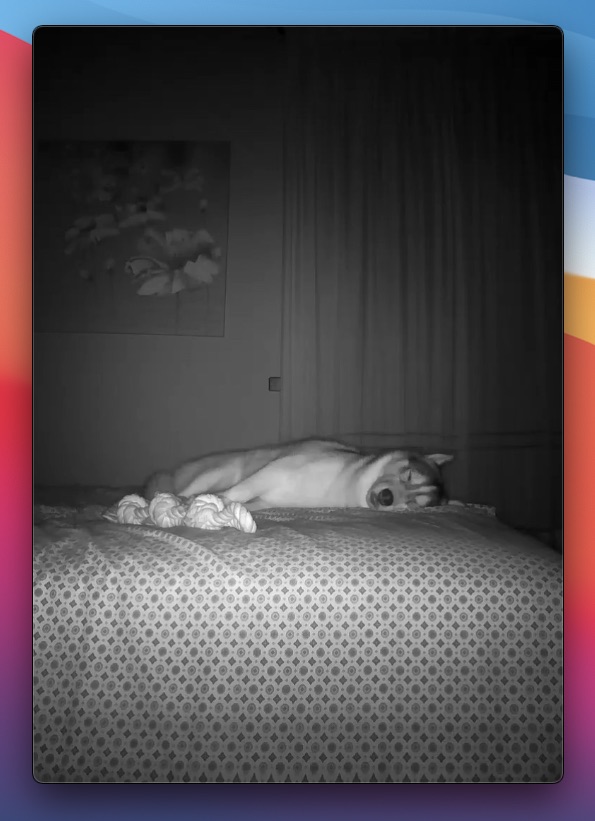 GlanceCam 3 new minimalistic UI, showing Milla resting her coder mind
4
years of active development
GlanceCam 3
GlanceCam 3 is the app's biggest update yet and the list of what is new and improved in the regular version is quite extensive. A few highlights:

• A new Preferences window makes easier adding, reordering and configuring video streams and tweaks; additional help is also provided in a new onboarding video, plus throughout the app in detailed tooltips and in the extensive Frequently Asked Questions.

• The aspect ratio of the video stream is now auto-detected.

• Insta-zoom and resizing is faster and works great on ultra-wide displays.

• It's now possible to send a camera to the same level of macOS background, behind all apps and icons, so that it remains always available in the most unobtrusive way possible. A bit hacky and nerdy, but often asked for!

• With Out of my way, the magic trick for moving a window temporarily to grab something below it and Stay out of my way, you can achieve productivity bliss.

• Lots of new keyboard shortcuts have been added.

• Improved auto-generated email reports when requesting support or providing feedback.

• GlanceCam 3 rocks a new, stunning app icon designed by Becky Hansmeyer.



GlanceCam Pro
GlanceCam Pro is a new tier introduced in version 3 and is designed for Users with advanced requirements, who have inspired and asked for its features.

It is offered either as a life-time in-app purchase at $ 22.99 or as a yearly subscription at $ 8.99; both purchasing methods are available because some Users prefer one option over the other, but they all unlock the same feature set:

• Multi-windows support, which allows to open, resize and arrange as many windows as needed, remembering their configuration between sessions.

• Cycle mode, a convenient way to cycle through some (or all) your cameras in one window.

• An optional Minimalistic user interface that removes everything but the video stream when the app is not actively interacted with.

• The ability to force a custom aspect-ratio, for non standard streams such as horizontally compressed ones or vertical cameras.

• A preferential channel for email support, guaranteed to GlanceCam Pro Users in less than 24 hours, Monday through Friday.

• 14 funny and cute custom icons to choose from, both in the new Big Sur style and in the "classic" round form (icon customisation can only be shown in the Dock while GlanceCam is running).
Use cases
Keep an eye on one or more IP cameras:

• Install cameras from different manufacturers and avoid their cumbersome web interfaces, plugins or proprietary apps.

• Mount webcams in your living room, kitchen and garden to check on your cat when you're away, maybe turning on a light at night or taking a snapshot when kitty does something funny.

• Point a camera at your front gate and let visitors in by activating a network relay.

GlanceCam is a bit nerdy, but very useful if you want to take full advantage of cheap webcams.
It can stream cameras on your LAN or via Internet and, while it's not the most "works out-of-the-box" app to configure (you'll need some knowledge about your network and cameras: IP address, username, password and the string format required to stream your specific camera model), it's very flexible and brand-agnostic; please, check the requirements section, and don't hesitate to ask me a question before purchasing.

Please be advised that GlanceCam is designed for realtime playback and DOES NOT support DVRs / NVRs, proprietary cloud services, recording (nor playback of recordings), motion detection and pan & tilt (PTZ) control.



Features
Here's a list of some of the things GlanceCam can do:

• With most IP webcams, you can receive the video stream via RTSP, HTTP or RTMP, without opening a browser; GlanceCam shows you those feeds in a resizable window you can keep always visible on your Desktop.

• You can add as many cameras as you like.

• The app shows one camera at a time in a single window, and you can switch between cameras inside that window; upgrading to GlanceCam Pro will allow to open as many windows as you need.

• For every camera, you can also configure up to 2 optional buttons, visible when you hover your mouse on the app window, to perform actions via customizable HTTP GET request URLs.

• GlanceCam's window can be configured to be 'Always on top' and visible in every Space, or even 'Behind everything', at the level of your Desktop; the app can optionally auto-launch at login.

• GlanceCam offers many keyboard shortcuts and is great for automation: it has a URL scheme and supports Apple Script for switching cameras and toggling full-screen mode; you can even control it from your MacBook's TouchBar.
"I have used/bought most of the IP clients for Mac out there and this is totally the best one."
⭐️⭐️⭐️⭐️⭐️ App Store review
"Apple Silicon update is WOW. What an improvment in launch speed and camera changing. WOWOWOWOWO"
⭐️⭐️⭐️⭐️⭐️ App Store review
"GlanceCam puts all of your IP cameras into their own window on your Mac."
iMore review
"Finally, a cam viewer that works!"
⭐️⭐️⭐️⭐️⭐️ App Store review
"GlanceCam 3, the Mac viewer of IP cameras is updated with many new features."
Macitynet review
"Just launch the app and see the camera. There are enough features without being complicated and the ones I don't care about stay out of the way. I'm supprised how little resources it's using for four cams. I got the pro version and I'm very happy with the multiple windows and minimalistic appearance mode."
⭐️⭐️⭐️⭐️⭐️ App Store review
"Brilliant! Grabs the RTSP stream from my Armcrest cam, so no more stupid web interface."
⭐️⭐️⭐️⭐️⭐️ App Store review
"Great app with great support!"
⭐️⭐️⭐️⭐️⭐️ App Store review
"Was looking for something which would show my Hikvision ip cameras on my Mac Mini M1. 5 minutes after downloading (and a little bit of fiddling to get the camera address correct) I have all 4 cameras set up and viewable on my desktop. Simple. Brilliant."
⭐️⭐️⭐️⭐️⭐️ App Store review
"I use GlanceCam pretty much all day!"
⭐️⭐️⭐️⭐️⭐️ App Store review
"I have been using GlanceCam for a few weeks now. Performs well and the simple interface is wonderful. Cesare is very responsive to reasonable requests. The application works great with Duhua, Axis, and Elphel cameras."
⭐️⭐️⭐️⭐️⭐️ App Store review
"Configured my six cams with help of Cesare. The cameras I have are not well documented. He was able to find a solution in no time."
⭐️⭐️⭐️⭐️⭐️ App Store review
"Excellent software I couldn't live without. This one program is compatible with every camera I own."
⭐️⭐️⭐️⭐️⭐️ App Store review
Requirements
• An Apple silicon / Intel Mac running Ventura or a previous version of macOS or OS X (High Sierra 10.12.2 or newer).

• One or more IP cameras capable of broadcasting their stream via RTSP, HTTP(s) or RTMP (RTSPs not supported); you'll need to know the camera IP address, your personal credentials (username and password) and the string format required by the manufacturer (including the string protocol and port). There's (extensive documentation about the setup process, and you can always count on my help if you need assistance.

• Any Mac running the supported operating systems should have plenty of power to stream IP cameras with GlanceCam, but multiple streams, high resolutions or lots of cameras open at the same time will require faster computers.

• A solid connection between your computer and the cameras, be it LAN or WiFi, is recommended both for performances and stability, especially if you want many cameras to stream at the same time.

• For triggering actions by pressing the customizable buttons, you'll need devices or appliances that can react to HTTP GET requests.

• To stream over the Internet, you'll need a static public IP address or a dynamic DNS service and to configure port forwarding for each camera and, optionally, action button; I recommend to start testing the video stream in LAN to check the compatibility before digging into remote connections; learn more here.



Links
Contact informations
You can contact me, Cesare, via email at support@cdf1982.com or on Twitter @cdf1982.com. And of course Milla has her own Instagram page.

You can also check my other macOS and iOS apps, and my blog, at cdf1982.com.

If you write me, please consider that it's only me here doing all the coding and support, so it would be very nice if you could allow a couple of business days for a reply to come; rest assured that I read and respond to all emails and that I'd genuinely love to hear from you!